Adam Ganz is the great-grandson of Felix Ganz (1869–1944), managing director of Ludwig Ganz AG – a successful carpet and textile company that was based in Mainz. The company as well as Felix Ganz's extensive art collection fell victim to the Nazi dictatorship. He and his second wife Erna were later murdered in the Auschwitz concentration camp in October 1944.
We spoke to Adam Ganz about his family history and his thoughts on memorialization culture.
Interview: Zoë Shannon | March 2022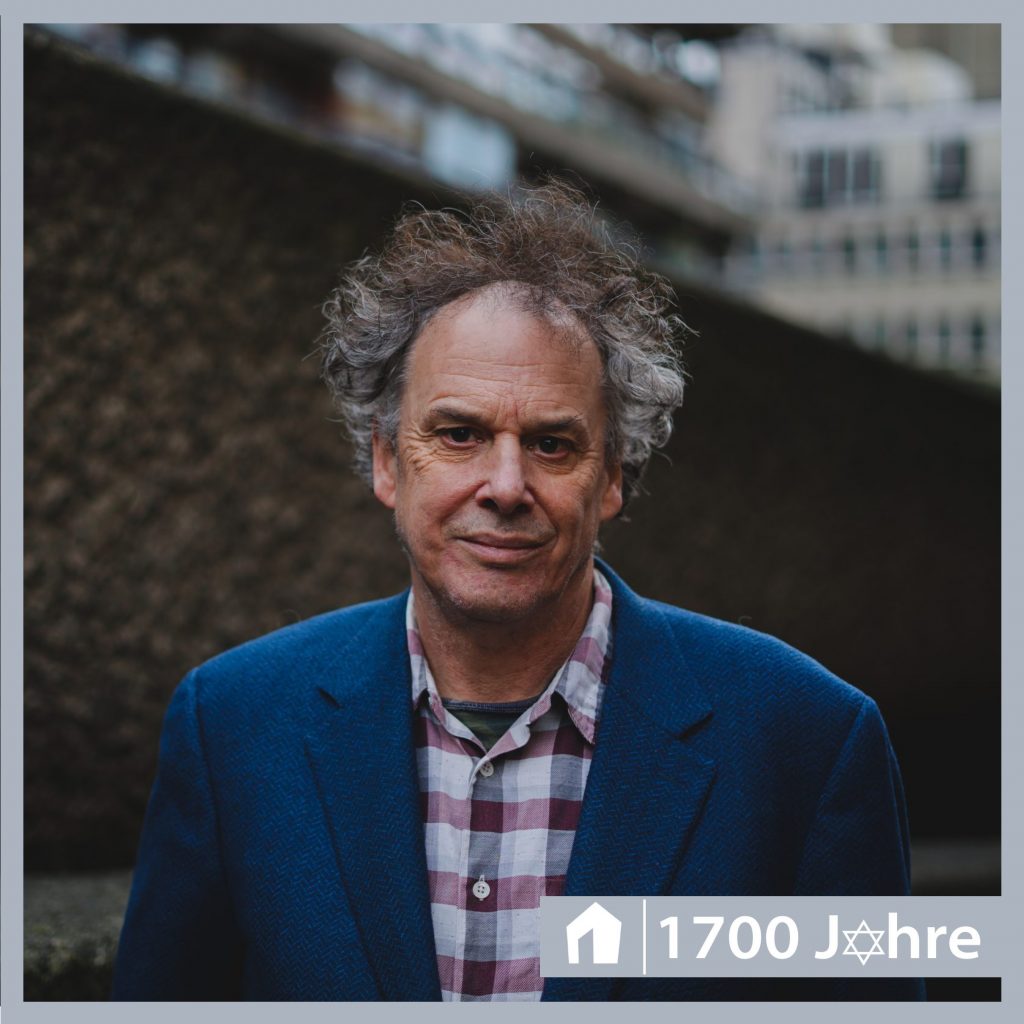 About
Adam Ganz is professor in the Department of Media Arts, Royal Holloway, University of London and associate researcher at the Holocaust Research Institute there. He currently plays a key role in art provenance research of Felix Ganz's collection.
Info
In 1934, Ludwig Ganz AG was 'aryanized'. Felix remained in Mainz, despite his descendants (including Adam's father Peter) fleeing in 1938 and 39, until 1942 when his second wife Erna and he were deported to Theresienstadt. They were murdered in the Auschwitz concentration camp in October 1944. Adam Ganz's father, Peter, who fled Germany after his 6-week internment in Buchenwald, was a renowned Germanist and an interpreter for Operation Epsilon.
Your family lived in Mainz for over 300 years as influential and active members of the community. Your great-grandfather, Felix Ganz, owned a successful carpet business based in Mainz. How did you first come to find out about your family's history and significance in Mainz?
I was always aware that my father was born in Mainz, and that there was a carpet business, but I only realised the scale of the family's influence when I first came to Mainz and was able to see the places first hand and was also able to see the documents about the family and the business in the Stadtarchiv (State Archive) and elsewhere. I discovered a great deal from the late Günter Marchot, who was passionately interested in local history and whose family had sheltered in the stable of my great grandfather's estate on the Michelsberg after they had been bombed out of the Mainzer Neustadt, Mr. Marchot showed me around the Michelsberg, and it was an unforgettable memory as he described what it had been like playing with the fragments of chandelier in the bombed out ballroom of Felix Ganz's mansion. I was also affected seeing the graves of my great great grandparents in the new Jewish cemetery.
Over the years, you have been able to reconnect with the other descendants of the Mainz Jewish community, what has this experience been like for you? Have there been any encounters that stood out to you?
There have been several encounters that had a profound effect on me:
I was privileged to go to the opening of the Synagogue in Mainz which was a wonderful opportunity to meet the generation that left, there was a wonderful feeling of comradeship between the old Mainzers who were joking with one another. Mainz 05 were top of the Bundesliga for a few short weeks, and I remember one guy Mr. Rothschild from the US who was nearly 100 and had been a fan in the 1920s proudly wearing a hat and scarf. I was also privileged to hear an unforgettable speech by Fritz Weinschenk who had been at school with my father and was able to describe the terrible disaster that the Nazis brought to his city not just the murder and deportation of the Jews of Mainz but the destruction of the whole city. Crucially he could also acknowledge as no one else in that audience could his many schoolmates who had died fighting for the Nazi regime and that they too were victims of the madness.
I also have very fond memories of a meal with a group of children of refugees from Mainz all of whom had been introduced to our parents hometown by Dr. Hedwig Brüchert, and breaking bread with one another with the person who had helped us find some way back to the place we came from.
During a recent interview on SWR2, you shared that your grandmother would often tell your father, "Wenn wir nicht Deutsch sein dürfen, dann haben die Nazis gewonnen – When we are not allowed to be German, then the Nazis have won."
Can you share what this message means to you today?
I find myself continually revisiting this complex question of identity. What it means to be German, to be Jewish, to be a refugee, for how you see yourself and how others see you. As I write millions are fleeing Ukraine just as others in recent years have fled Syria or Nigeria or Libya. They want to belong to their new country, but they cannot ever leave the old one. I am pleased to have a German passport but also to honour the contribution that my family and thousands like them contributed to modern Germany in so many ways.
To take one example, before 1933 there had been no Nobel Prize winners of Jewish heritage in Britain, and I think 1 or 2 in the US. In Germany there had been dozens. Jews In Britain or the US were not able to get the education necessary to study science. Before the horrors Germany had been more tolerant and benefited from that in so many ways.
It feels important to remember when I encounter a German person horrified about what the Germans did to the Jews', rather than seeing these atrocities as things that Germans did to other Germans.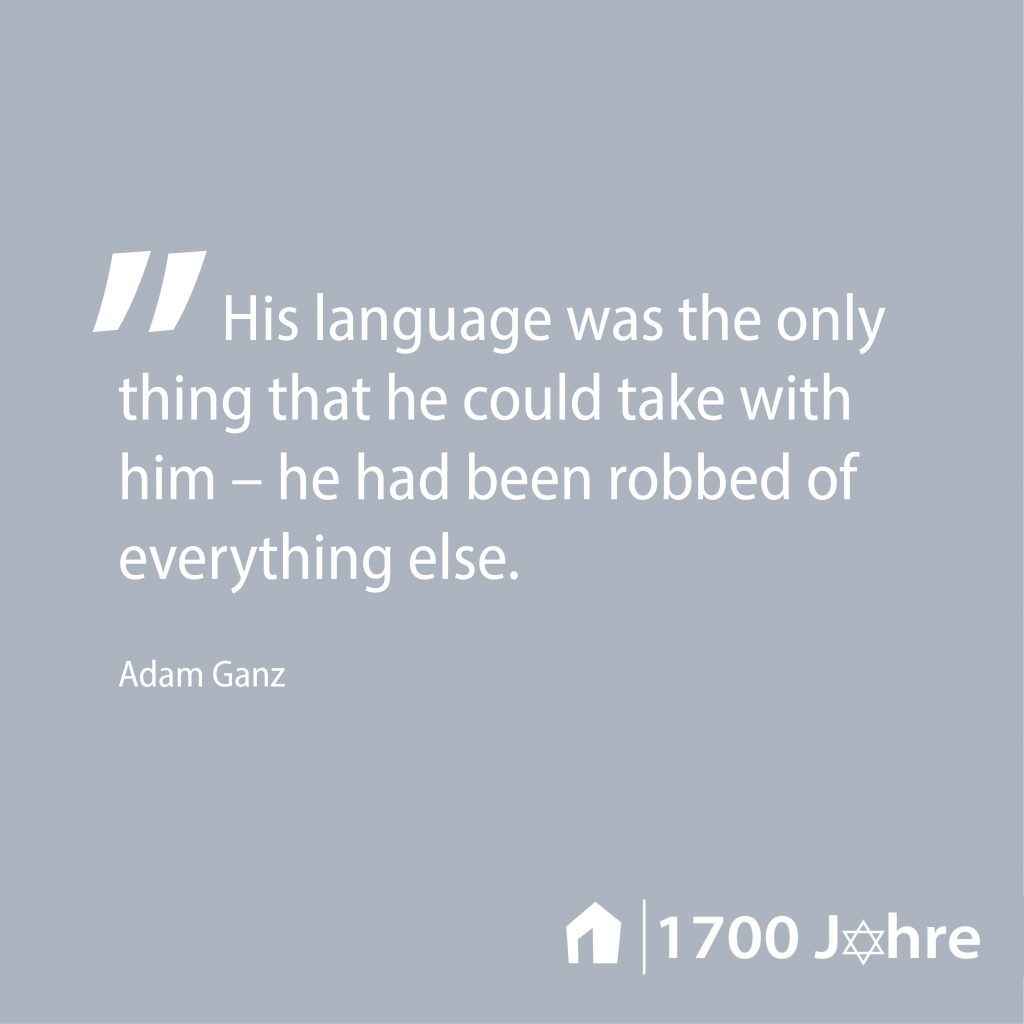 Many children of survivors are not taught German, in fact, many survivors refused to speak it after the war. Your father, however, handed down the German language, which has allowed you access to documents and discourse. What role has this language access played in your life and rediscovering your family history?
It's made it a lot easier to read the documents – though I still can't read Sütterlin handwriting and am incredibly grateful when letters are typed… It wouldn't be possible to have pieced together the story without knowing German, I think it has also helped me to appreciate what being German meant to my father and his family. He was a Germanist and a philologist who worked on Gottfried von Strassburg's Tristan, which I had always knows as a key German text and of course the inspiration for Wagner – but it wasn't till I came to Mainz that I realised that it was written just 200 kilometres down the Rhine.
His language was the only thing that he could take with him – he had been robbed of everything else. We always went on holiday to Cornwall – the place where Germany and England came together – two lands linked by one story.
You are a professor at Royal Holloway, University of London in the screenwriting department. Your university is also home to the leading Holocaust Research Institute. Have you been able to integrate these two academic fields in a project?
In addition to writing a trilogy of radio plays about my father's experience in Britain and what happened to the Jews in Mainz, I have recently been working with the Imperial War Museum and 8 partner institutions around the UK. In this project writers tell binaural stories about the Second World War and the Holocaust based on stories in their collections in conjunction with the opening of the new The Holocaust and Second World War galleries at the IWM. These can be accessed at http://onestorymanyvoices.iwm.org.uk/stories.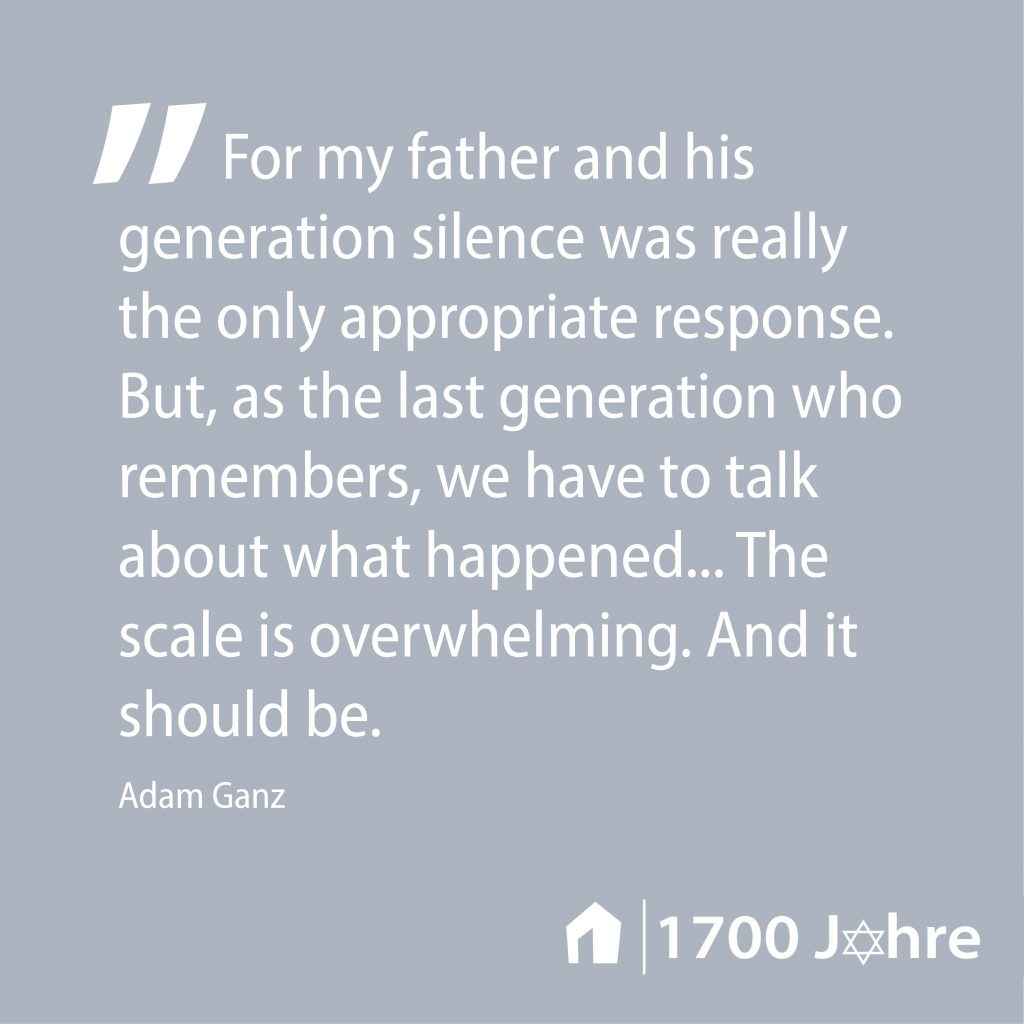 You have once stated you are interested in the possibilities and limitations of adapting and dramatizing historical events and the gaps and silences in the archives. Can you elaborate on these issues within your own projects?
Stories do not just change the way we see the world. They change the world. It's not only inappropriate to try and fit the events that happened in Europe between 1933 and 1945 within a classical narrative of transformation, change and happy ending, but it also still seems to me an abomination. It can really only be told on a scale as epic as the Iliad. For my father and his generation silence was really the only appropriate response. But, as the last generation who remembers, we have to talk about what happened… The scale is overwhelming. And it should be.
Many people outside of your family continue to be interested in researching the Ganz family history. With many eyes on their stories, what are some moments or discoveries throughout this information seeking process that have surprised you?
It was astonishing to speak on the phone to a woman now in her 90's who had lived in the house in the Michelsberg as a child, and who remembered Felix, she spoke about his house full of carpets, his dogs, and his generosity with chocolate. It was also astonishing to hear from someone whose father worked for Ludwig Ganz AG and who showed me a picture of his dad in the storeroom. He also remembered seeing him later walking with his mother in the Volkspark. Felix advised her not to talk to him because it could cause her problems, but he said his mother insisted saying he had always been a very good employer. He also told me that Carl Zuckmayer (whose first marriage was to my great aunt Annemarie, Felix' daughter) had been offered a job at Ludwig Ganz AG. In response he told me that Zuckmayer went to the piano and played "Du bist verrückt mein Kind! Du musst nach Berlin!".
Memorialization culture is a contentious subject within German society; a conversation that sometimes excludes the victims and their descendants. What are your wishes, if any, for the memorialization of your family ́s history in Mainz, as well as of the larger community of victims of National Socialism in Germany?
In the Addressbuecher before the Nazi rise to power there were at least 50 people named Ganz who lived in Mainz. After the war there were three or 4. When I first came to Mainz there was no visible trace of my family at all, now thanks to the work done by so many, they are part of the narrative regularly mentioned in the local history articles Michael Bermeitinger writes in the Mainzer Anzeiger. For me the priority is less about the commemoration of the Ganz family – which is ultimately a personal thing, they are no more or less worthy of commemoration than other victims of Nazi atrocities in Mainz, (though I am delighted that there will be a plaque outside the site of the headquarters of Ludwig Ganz AG in the Binger-schlag which was sadly demolished only a few years ago and I hope that there is some recognition of the house and land on the Michelsberg which now comprises a large area of the Volkspark) what I would like is for people to understand how much the Ganzes and the Sichels and the Hanaus and the Weinschenks and the Reilings and the Bambergers contributed to Mainz then – just as the Şahins and the Türecis and the Papelas and the Nyandejes do now.
Collective memory can be a dangerous thing. The best reason to remember the dead is to care better for the living. It's wonderful that Mainz's Jewish heritage with the other ScHUM cities and the Jewish tradition of Mainz- which was always important to my father and his generation of Jews from Mainz, religious or not, is now recognised by UNESCO. The best way we can honour that is as Hillel said: "That which is hateful to you, do not do to your fellow. That is the whole Torah; the rest is the explanation; go and learn."
Many are still searching for their families' looted heirlooms. The Ger­man Lost Art Foun­da­tion of­fers the →Help Desk for Enquiries about Cultural Assets seized in the National Socialist Era: The Help Desk of­fers vic­tims of the Na­tion­al So­cial­ist regime and their de­scen­dants ad­vice and as­sis­tance in mat­ters re­lat­ing to Nazi-loot­ed art. The Help Desk as­sists with ini­tial steps and pro­vides fur­ther con­tacts and in­for­ma­tion. Staff are al­so pleased to fa­cil­i­tate con­tact with mu­se­ums and oth­er in­sti­tu­tions.

The reconstruction of Felix Ganz´s art collection is an ongoing project. For further information can be found →here. In 2022 a short →documentary on Felix Ganz and his collection was broadcast.